@listening the music with headphone, he have worried about his hair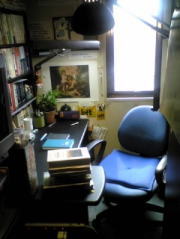 a library
he always stays the chair in holiday

Ÿcomment 1
He often uses this chair in spring and autumn, but in summer, nobody sit down this chair. For Japanese summer is very hot and humid, so his library is unpleasant.


@yintroduce himselfz

@kikuitimonji [*NB1] iUME-3j
@[manager of this WEBsite]

He was born 1976.5.22 in Ehime(Japanese resion).Namely, he was as to say "enfant terrible". The worst thing of it is that he had no will to study as student (especially in ABC Schuetze), but would break through to "examination hell", so studied only einsmal, and got into BAKADA University. (next to famous WASEDA University) He majored in law and jurisprudence, but now it is dissapointment that nothing to remember. And now he left the University and is now leading an idle life in Waseda.

He likes to read books (especially philosophy, history book), and to appreciate Nou-Kyougen, Opera, to listen music (Classical music and Jazz).Also likes to cook Itarian and Japanese food.

His hair is becoming somewhat bald, so, he's looking forward to something preventing his hair thin. For example...soy milk? Please tell him to taking effect thing.

He always visits three-word library, "Shinjyuku-ku""Toshima-ku"and"Bunkyo-ku", and borrowing amount of books. Frankly saying, he is maniac.

As his love to Nou-Kyougen is what we call an incurable disease, he sometimes dance"KOMAIi¬•'j"[the dance (with song) of Nou-Kyougen] in his room .


---

*Nota Bene 1
My handle name "kikuitimonji (kiku-ichi-monji ; ‹eˆê•¶Žš) " means the Japanese sword name. The sword is used by Okita Sousi (Okita Souji) in Shinsen-gumi (Vï'g) [ the special police took action against radicals in late Edo-shogunate period ] . He is one of the most popular swordman in Japanese history.
In japan, sword name is sword builder's name (ex.Nagamitsu-Osafune [lived in the city of Bizen], and Masamune-Okazaki [lived in the city of Kamakura], or so) , so originator of Kiku-ichi-monji is sword builder of medieval times in Kamakura-si (the city west of Tokyo), and present, the store "Kiku-ichi-monji" opens in Kamakura now (of course the store have no concerned with me) .
---
his favorite...


---
¡annotation 1
As to music, he likes J-pop and Soul, too. For example, Erycah Badu, Gerald Revert, INTRO, D-infruence, Brandy, EN VOGUE, Mr BIG, WILDHEARTS, Changing Faces, or so. These music is so honesty, and he likes sincerely music.
¡annotation 2
(Art) He likes Renaissint era. Example ; Cimabue, Tizziano, Riverta, Rippi, Dueler, Muriryo.